The Pryor Mountain Wild Mustang Center has had another successful year, volunteer Lynda Nickle and board member Nancy Cerroni reported this week.
Visitors from all 50 states and 29 foreign countries came to the center just east of Lovell, including visitors from six Canadian provinces.
"We started asking people in July where they're from since some people don't like to sign in (on a register)," Nickle said. "It's been a pretty impressive year."
As of the Tuesday morning interview, 3,790 visitors had come to the mustang center, and 221 guests booked trips on Steve and Nancy Cerroni's PryorWild tour.
"Last year we had more than 4,000 visitors (for the entire year), so it's going to be just about the same," Nickle said.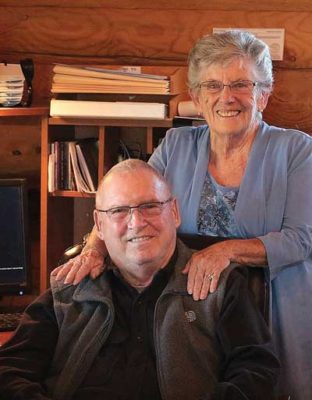 As would be expected, the number one state for visitors to the mustang center was Wyoming, with 124, but there have also been 105 from Montana, 83 from Wisconsin, 73 from Minnesota, 70 from Texas, 63 from Florida, 52 from both Colorado and Washington, 50 from California, 47 from both Michigan and Illinois and 43 from Indiana.
As for foreign countries, the center has seen 57 visitors from Germany, 54 from Canada, 23 from England, 18 from the Netherlands, 16 from France, 15 from Australia, 14 from Switzerland and 13 from both Italy and Denmark.
Other visitors came from Brazil, Chile, China, New Zealand, Tasmania, Scotland, Ireland, Norway, Sweden, Belgium, Poland, the Czech Republic, Romania, Finland, Israel, the U.S. territory of Puerto Rico, Austria, South Africa and Tanzania. One other person listed the general region of "West Africa."
As for PryorWild, Cerroni said their tour company has grown from 70 guests in 2014 to this year's 221.
"That's pretty much capacity," Cerroni said. "We've turned down several people due to weather or because we're stretched to the limit. We've made 97 trips up there. We don't want to add on to the tours and have a parade going up there. That would take away from the charm of the experience."
Cerroni said PryorWild operates as a collaborative effort with the mustang center.
"It's been a lifesaver for the mustang center," Nickle added.
Whether at the center or on a tour, Nickle and Cerroni love promoting the wild mustangs.
"Our message is that these horses are a national and international treasure," Cerroni said. "People from Germany, France, the United Kingdom really love the horses.
"When we started the tours everybody wanted to go up and see Cloud, and after he died or disappeared in 2015 we wondered if the horses would have the same appeal and we would get the same numbers. We did, and the horses didn't decline in popularity. Many people tell us the horses are on their bucket list…There are very few places with this kind of easy access to wild horses (like the Bighorn Canyon National Recreation Area)."
Cerroni heaped praise on the Nickles for making the wild mustang center a continuing operation.
"Kudos to John and Lynda," she said. "I can't say enough about their contributions to the mustang center and to the community in general. Lynda is out here every day on a volunteer basis. She patiently describes where to see the horses and passes that along to the young girls (the center's summer interns), who are branching out and ensuring the popularity and the future of the horses. We've got to
have the younger generation stepping in to carry it forward, like the Reverend (Schwieger) did for me and Matthew (Dillon).
"When people come here it's really about being an information center, and they're provided information on how to find horses they can easily get to on a paved highway."
"One of our main missions is educating the public," added Nickle.
Promoting a community
"The center really benefits Lovell," Nickle said. "They (visitors) ended up spending the night when they didn't plan to."
One of the ways the center gets the word out is the center's Facebook page, and Cerroni said the center recently topped 14,000 followers. She added that the center was earlier this year named the top attraction in Wyoming for 2017 by USA Today in the paper's 10Best Readers' Choice voting thanks to "a loyal group of followers who voted for us. And we were up against Yellowstone and Grand Teton."
A promotional video about the wild mustangs can be found at 10best.com.
Cerroni noted that the travel website Tripadvisor.com lists the mustang center as number three of the top 10 "things to do" in Lovell, topped only by the Bighorn Canyon National Recreation Area and the Medicine Wheel National Historic Landmark.
"That's a really cool thing," she said. "It's just a great area for people to come to, even though it's kind of off the map."
"I spoke to a family and they just couldn't believe the (Devil's Canyon) overlook," Nickle added. "The horses aren't scared of people. They can have an experience that's going to be fantastic."
"Many of our guests stay in Lovell and eat at local restaurants," Cerroni said. "They love the Red Apple.
"We're this little log cabin at the edge of town, and we're quietly making noise out here. We're not known as a tourist town, but people come here to see the wild horses and they get to see the richness of the area, as well."
Anniversary coming
Nickle and Cerroni pointed out that 2018 will mark the 50th anniversary of the formation of the Pryor Mountain Wild Mustang Range.
"It all started with a few local people who had a vision to save the horses," Cerroni said. "It comes back to the idea that a few people can make a difference. It kind of hasn't changed since then. There are still a few local people (working), but there's a great international support system…Horses are as iconic to the American West as the cowboy is.
"When you say wild horse, they (visitors) are amazed to find this
really select herd, this Spanish herd with the markings. They're amazed they
still exist."